" The runway ready formula absorbs oil and refreshes roots with a residue-free, lightweight finish. It also leaves a gorgeous veil of fashion fragrance so now your hair can smell as fabulous as it looks."  Ruth Crilly,  fashion model and blogger.

COLAB "Rio" Dry Shampoo – A tropical fragrance with a carnival of tropical notes with papaya, pineapple and a heart of cassis.
COLAB "London" Dry Shampoo – A classic, yet contemporary fragrance of bergamot, musk and magnolia.

COLAB Sheer & Invisibile Dry Shampoo
COLAB™ is a breakthrough in dry shampoo couture.  At the heart of the product is a revolutionary SHEER & INVISIBLE dry shampoo formula made available in a range of exquisite fragrances.
It is the creation of an influential collective of beauty insiders, led by Ruth Crilly, international model and founder of beauty and fashion blog and YouTube channel, 'A Model Recommends'.
The result of this unique backstage collaboration is an inspiring  breakthrough formula that fuses the art of catwalk styling with the science of formulation.
COLAB™ is a signature range of ready-to-wear dry shampoos that refreshens to help keep hair feeling clean for longer; feature a revolutionary weightless, invisible formula that leaves the hair ; and leave a fabulous veil of fashion fragrance. They're perfect for all hair types that need an instant boost.
What Makes COLAB Different?
The transparent sheer, invisible application and the designer-inspired fragrances are what set COLAB apart from other dry shampoos.
While other formulas may leave a chalky white residue, you don't get any white residue or stickiness with COLAB Sheer Invisible, so there's no need to brush that through with your fingertips.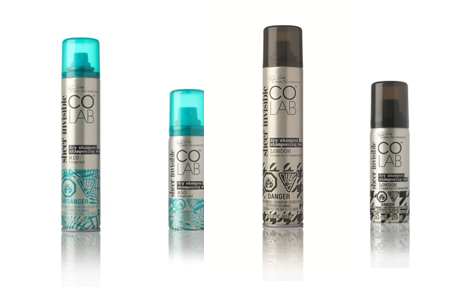 Travel sizes help keep your hair looking refreshed wherever and whenever you are on the go.

Ruth Crilly
As a successful vlogger, blogger and model, Ruth understands the importance of looking and feeling your best even when there's not a second to spare.
This is the essence of the backstage routine. She saw the gap in the market for a residue-free, high performance dry shampoo and set about working with a dynamic beauty team to solve the problem.
COLAB™ is now available in fragrances "London" and "Rio" at Phoenix Beauty Lounge. $9.99 for 200ml size and $5.49 for 50ml travel size bottle.